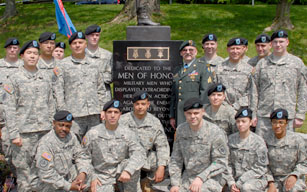 The Westchester County Veterans Service Agency works year-round to ensure that veterans and their dependents receive the maximum benefits from the federal Department of Veterans Affairs and other agencies at all levels of government.
Korean War Memorial update
We will soon be adding names to the Korean Veterans Monument bronze plaques. We encourage you to review the list of names and contact us if you have information regarding a Westchester resident who was a casualty of this war and whose name should be added.
Free home energy audits
Veterans may qualify to receive a home energy audit for free thanks to the Building Performance Contractors Association and the New York State Energy Research and Development Authority. Read more for futher details.
Westchester's Fallen
Formed in 1945 to assist World War II servicemen, the county agency now seeks to honor and help those who are serving in Iraq, Afghanistan and elsewhere. A section of our Web site is dedicated to those who lost their lives in the ongoing conflicts.
Active Duty Military Personnel and Family Playland Discount Program
In appreciation of our local active duty military personnel, Westchester County offers Rye Playland discounts to active service men and women and their immediate dependents.
Veteran Benefits
There are approximately 56,000 veterans in Westchester County representing all periods of conflict, up to and including the current conflict in the Middle East. As of 2012, the Veterans Administration estimates about 36,000 registered vets; we estimate about 20,000 or more are unregistered.
In this section, you will find out detailed information about specific veteran benefits, and what you need to do to apply for them.
Advocacy
As advocates for veterans and their families, Westchester County counselors work closely with the United States Department of Veterans Affairs and other federal, state, local, and private agencies to provide optimal service at the local level. Services include free accredited representation, securing military and personal records, obtaining medals and awards and assistance with veterans real property tax exemption filing and veterans medical ID card enrollment.
Victims of military sexual assault
Department of Defense (DoD) Safe Helpline is a groundbreaking crisis support service for members of the DoD community affected by sexual assault. The Safe Helpline is operated by RAINN (Rape, Abuse & Incest National Network), the nation's largest anti-sexual violence organization.
Safe Helpline provides live, one-on-one advice, support, and information to the worldwide DoD community. The service is anonymous, secure, and available 24/7. Specially-trained Safe Helpline staff provide help three ways: online, telephone and SMS/text messaging.
For personal awareness, watch the You Tube video of Representative Jackie Speier condemning sexual assault in the military. Hers is a first of a series of speeches on sexual assault in the military.